Why cheat yourself?
AEAS Test Administrator, Melbourne – August, 2013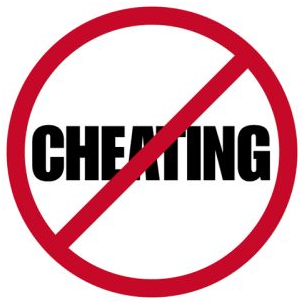 This week we almost had a full house at our Melbourne test session. With nine students registered in a session that seats ten, I arrived at AEAS knowing it was going to be a busy morning.
I really enjoy large test sessions, meeting students who have just arrived in Australia and are testing in order to plan their ELICOS studies, or returning students who are taking the test for the second time. These students have almost completed their intensive English language programs and are excited about using their AEAS test to apply for schools.
The morning was going well until I met Krista*. Krista was a confident student and as I sat down with her to conduct her speaking test it never occurred to me that she might have something up her sleeve – literally!
Krista was applying for Year 10 and had already completed her ELICOS program. During her interview she answered questions confidently and we were having quite a good discussion on the speaking test topic when something caught my eye. At first I wasn't sure what I had seen, so let Krista continue giving her speech. As I looked more closely I saw it again, Krista had a large patch of writing on the inside of her wrist. Her jacket had been covering it, but as she began speaking, her sleeve had moved up her arm to reveal a list of vocabulary words. Krista was cheating.
Though shocked, I knew the AEAS Testing Terms and Conditions, so immediately stopped the test and asked her to leave the test session based on the concealed words. After Krista left I continued with the session, but I knew that by cheating Krista had seriously jeopardised her future in Australia.
The remainder of the test session ended without incident. But I spent the rest of the afternoon returning phone calls from Krista's education agent and the registrar from the school she was applying to enter. Without the AEAS test results Krista could not apply to her school. Even though she had already finished her ELICOS program her plans to enter high school in term two were shot. I wondered what she was going to do.
I ended my day meeting with Krista's mother who was devastated by the possible long term consequences being caught cheating would have on her daughter's future in Australia.
The day had not turned out as I had expected. Not only had Krista's one action affected a lot of other people but it had also put her own future at risk.
*Name changed.
Thinking about cheating? Don't.
AEAS test sessions have tight security. All students go through security checks prior to testing and test administrators closely monitor students throughout the session. When you get caught you face losing your place in your school of choice and may be banned from taking the AEAS test in the future.
No short cuts to developing good English language skills
AEAS Test Administrator, Melbourne – April 17, 2012
Young Pu's on top of the world!
There were three students at our Tuesday test session this week, but one really stood out. Pu Ziyang, or 'Young' to his friends and teachers in Australia, comes from China and has been living in Australia for almost one year.  Today was his second time taking the AEAS test.
Young took his first AEAS test in April 2011 in Shanghai.  His education agent, Bessie Li from Austar Shanghai , recommended the test to check his English language proficiency.  'Bessie said I could use the AEAS test to plan how many weeks intensive English language (ELICOS) I would need when I arrived in Australia', Young explained.
Young got a total English language score of 35, which is beginner level, and was recommended 30 weeks ELICOS on his first AEAS Report.  He enrolled in a High School Preparation (HSP) Program at the Hawthorn English Language Centre in Melbourne.  'I spend almost half a year in language school and I found it really helpful', Young said. 'Language school was not only about studying grammar, vocabulary and reading. We also spent a lot of time chatting in English, listening to English and even thinking in English!  I believe if you can think in another language then you've made it!'
I'd checked Young's past AEAS Report before he arrived for testing.  But after I conducted his test I knew there was no way he was still at beginner level.  I quickly marked his papers to check his new score.  Advanced level!  Young's total English language score had improved by 46 points! He now had a total English language score of 81 which is almost the same as a native English speaker!
'I honestly wasn't sure how much my English was improving,' said Young when I told him the news.  'But I'm really glad I've been able to see my progress by taking this test.  When I was at language school I didn't spend all my time doing extra English exercises but I did read English books and watch English movies.  Basically, I just made a promise to myself that I would 'do my best, or not do it at all' and I reminded myself of this during class and when I did my homework'.
Billanook College, Melbourne
Based on Young's Year 11, term 1, progress report from Billanook College in Melbourne, where he is currently studying, his determination seems to be paying off.  He is achieving above average results in all his VCE subjects and Steven Lingard, International Student Co-ordinator says, 'Young is a fantastic student.  He only started at the school in January this year, but he's already doing so well.  He's settled in and has made some great friends – both local and international students.'
When I sent Young his AEAS Report I asked him if he would like to be featured in this blog, obviously he said yes!  I asked him what his plans for the future were, and he told me he wants to study Engineering at The University of Melbourne.  I'd say he's got a pretty good chance!
Mr Steven Lingard, International Student Co-ordinator at Billanook College
Top Tips to get where Young is

1. Test your English skills!

Testing your English language skills is only the first step.  Once you know your score make an ELICOS study plan.  As Young said, ELICOS is really helpful.  Without a good English language foundation Young would not be getting the marks he is now.

2. Research schools in your preferred city!

Billanook College was recommended to Young, but he did some research before he decided to enrol.  Now he says his school is 'wonderful' and he's making good progress towards his goal of studying at The University of Melbourne.  A supportive school can be the difference between good marks and great marks!

3. Do your best or don't do it at all!

Young's motto is a good one.  There are no short cuts to developing good English language skills. It takes hard work and determination to learn a second language.  But!  Once you've put in the hard work, six months of it in Young's case, you're all set for success.